Forest fragment case studies
The protection and restoration of the Waikato's forest fragments is critical, as in some areas they are all we have left of our native forests. These fragmented and isolated pockets of native vegetation are vulnerable to pests, weeds, and stock. Many are too small to support some native plants or animals.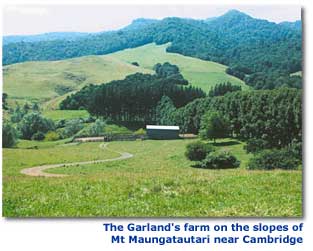 Forest fragments are usually the patchy remains of larger native forests, and some forest types now only occur as fragments. They were left standing, often in gullies or on steep slopes, when the land around them was cleared. Some fragments are new areas of forest that have grown back on cleared land.
Most forest fragments in the Waikato are on privately owned grazing land. The majority are not fenced and are regularly damaged by stock. These pages show how rewarding restoring a forest fragment can be.
Find out how David Wallace and Juliette Chamberlain have combined planting with an innovative pest-proof fence in the sustainably-managed native forestry unit which they have created on their Karapiro valley property.
Bill and Sue Garland's Mt Maungatautari farm continues a family legacy started decades ago by Bill's father, Rex. Their forest fragment restoration and protection work combines a love of the land, trees and native forest, with a philosophy of sustainable land management.