Ngaruawahia (Site now closed)
Air

»

Ngaruawahia (Site now closed)
PM10 Ngaruawahia at Ngaruawahia Bowling Club
Please note: This site was closed on the 3rd of April 2013 to enable monitoring in another airshed to take place.
This disestablishment of monitoring sites where three years of monitoring has indicated no exceedances of the NES is part of an ongoing monitoring strategy to re-deploy monitoring equipment in airsheds where air quality has not yet been monitored.
The information on this page is provisional, and has not been checked using the council's quality assurance procedures. Please note that the three day PM10 graph is a point-in-time measurement and not directly comparable to the national environmental standard for PM10, which is based on a 24 hour average.
Waikato Regional Council monitors fine particle (PM10) levels in the air. The majority of PM10 in the Waikato comes from home fires, mainly from burning wood. PM10 can cause respiratory problems, especially for asthmatics, children and the elderly, and can result in hospital admissions and premature mortality in sensitive people. The National Environmental Standard for air quality requires that there is no more than one exceedance per year of the PM10 threshold of 50µg m-3 as a 24 hour average.
Find out more about this airshed in the corresponding airshed map.
Air quality the: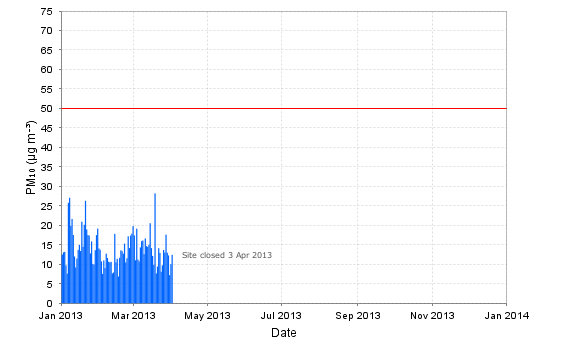 Interesting facts
Number of exceedances this calendar year
0
Maximum 24 hour concentration this calendar year µg m-3
28
Date of last exceedance
25/09/2009
Site information
Site name
Ngaruawahia at Ngaruawahia Bowling Club
Site number
2017.1
Map reference
NZMS260 S14:999-900 (1:50,000)
Air quality at this site is measured every 10 minutes
For the purposes of defining an exceedence daily average concentrations are rounded to the nearest whole number